MIT Portugal at Ciência 2020
Lisbon Congress Centre - Lisbon
MIT Portugal will be present at Ciência 2020, which will take place next 3rd and 4th of November 2020.Ciência 2020 is an annual meeting of Portuguese researchers that promotes broad debates on the main topics and challenges of the current scientific agenda. The main goal of this summit is to stimulate interactions between researchers, the business sector, and the general public.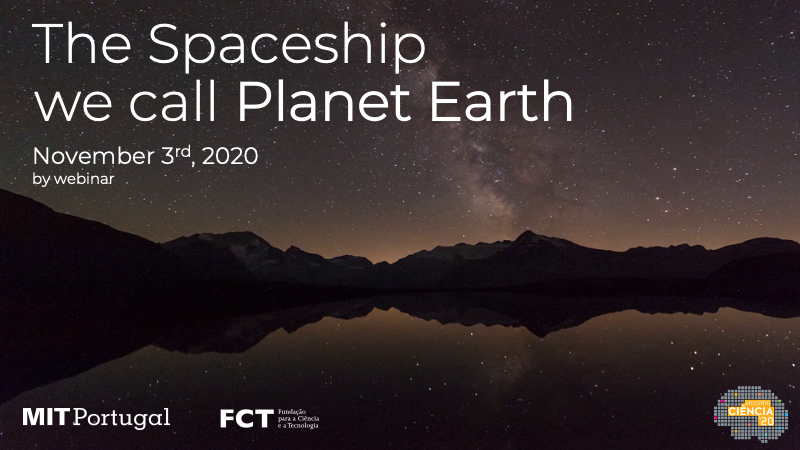 On November 3rd, MIT Portugal will participate in this science and technology summit with the online session The Spaceship we call Planet Earth that will discuss Earth Systems and Climate Sciences through the perspective of MIT and Portuguese researchers.
Register here !
Once you've registered, you'll receive, via email, the link to access the session. 
November 3, 2020 | ONLINE SESSION | 2:00 pm – 3:30 pm 
Session: The Spaceship we call Planet Earth
2020 marks the 50th anniversary of Earth Day, and MIT Portugal is excited to highlight this milestone. We all live aboard spaceship Earth, and like any other vessel, it's important to monitor its needs and changes. In this session, MIT Portugal will discuss Earth Systems and Climate Sciences through the perspective of MIT and Portuguese researchers, industry leaders, and students.
2:00 pm | Initial intervention – MIT Portugal
Zita Martins, National Co-Director of MIT Portugal Program    
2:15 pm | Session#1 – Earth's Vital Signs
Dava Newman, Director of MIT Portugal Program, at MIT
2:45 pm | Session#2 – AI Moonshot Challenge > SMART Team
by Leonardo Azevedo, Assistant Professor CERENA – Técnico, Lisboa
by Renato Mendes, Researcher at CIIMAR – University of Porto and CESAM – University of Aveiro
by Luísa Lamas, Researcher at Instituto Hidrográfico
by Björn Lütjens, PhD Student, Autonomous Systems Human Systems Laboratory at MIT
3:10 pm | Session#3 – Beyond Earth
Ligia F. Coelho, MPP student and Blue Origin Student Payload Competition Finalist Team EM²C
3:30 pm | Final Remarks
Moderator: Alexandre Ferreira da Silva | Executive Coordinator MIT Portugal Program 
—————————————————————————
November 4, 2020 | 11:30 pm – 13:00 pm 
Portugal in Space for Science and Exploration

Zita Martins, National Co-Diretor will be there to talk about Space Science and Exploration!
In parallel with the establishment of protocols with CERN in 1985, with ESO in 1992, with ESA in 2000, and more recently with the creation of Portugal Space in 2019, the scientific community of Portugal has been growing and strengthening its research in Space Science and Exploration over the past decades. This panel aims at discussing the past, present, and future of these areas in Portugal, with focus on brainstorming the role of Portugal in the global endeavor towards understanding and exploring Space. The panelists include a broad range of experts from academia, together with a representative of ISECG. 
Panel organized by: Rodrigo Ventura (ISR-Lisboa, Técnico); Marta Gonçalves e Manuel Wilhelm (Portugal Space)
—————————————————————————
November 4, 2020 | 4:00 pm – 5:30 pm 
Science can change our lives 
User / Citizen Innovation
Eric von Hippel, Professor, MIT
Biomaterials and how they will change our lives
Robert Langer, Professor, MIT
Closing session
Ana Abrunhosa, Ministra da Coesão Territorial
Watch live here !