MIT Portugal's Marine Robotics Summer School
STATUS: Call closed!

Welcome to the 1st edition of the MIT Portugal's Marine Robotics Summer School!
The Summer School will take place from july 19 to july 30 at the Faculty of Engineering of the University of Porto (FEUP).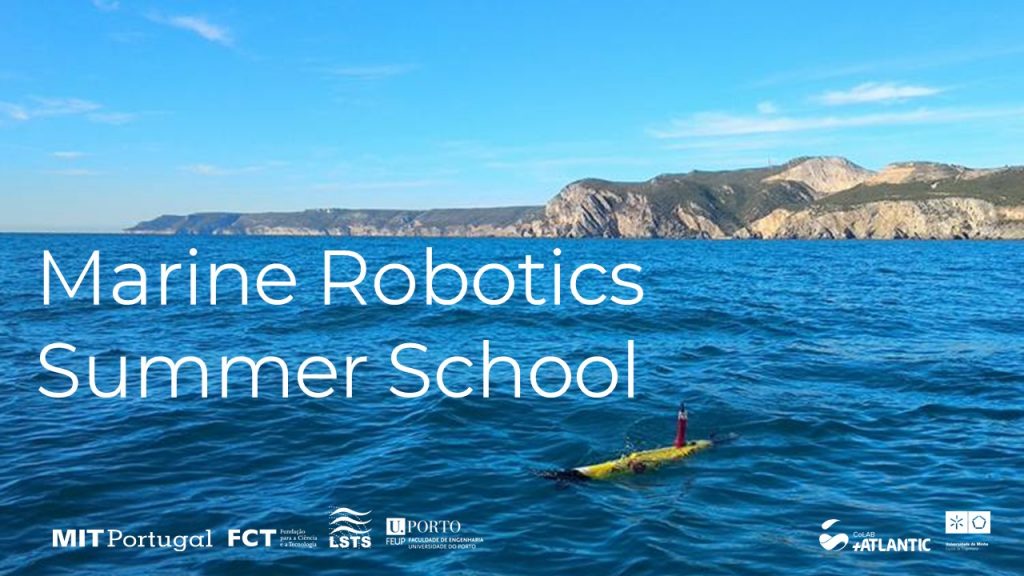 The summer course is organized by the MIT Portugal Program (MPP) in collaboration with the LSTS – Underwater Systems and Technology Laboratory (FEUP), the participation of Colab +Atlantic, Massachusetts Institute of Technology (MIT), and the School of Engineering from University of Minho.
The goal of the course is to provide a comprehensive overview of Marine Robotics with special focus on applications in ocean observation, underwater archeology and ecosystems mapping. There will be an equal emphasis on concepts and on practical applications.

The program includes LSTS overview, marine robotic systems overview, models, sensors, LSTS vehicles, LSTS tool chain, planning and control systems, oceanography, ocean literacy, introduction to underwater archeology, introduction to ocean observation, introduction to ecosystems mapping, and application.

For 2 weeks, and in-person, 15-20 selected candidates will work on a project – underwater Glider – and will spend some days assembling it. By the end, the students will present their work and test it on water. The expected outcome is for these students to acquire expertise in marine robotics, more specifically in applications for ocean observation, archaeology and mapping of ecosystems.

More information about the program will be soon posted.
Who can Apply?
The summer school targets a multidisciplinary group of students to attend the course.
The course is structured for senior and grad students, preferably from engineering science fields (e.g., mechanical, electrical, and similar). Nonetheless, students from other science fields such as bio-engineering, geology, marine biology, geophysics and oceanography's areas, for example, who desire a more in depth understanding of the subjects of the summer school, are also highly welcome to apply.

The number of participants is restricted to max 20 applicants to be selected on the basis of curriculum diversity, motivation and recommendation letter.
Each enrolled student will be integrated in a multidisciplinary research group to develop the summer school activities.
Sponsorship 
MIT Portugal Program will provide a student sponsorship (750 €) for travel/lodging for a limited number of students living outside Porto city to support their participation in the Marine Robotics Summer School. To be considered for the sponsorship, please indicate so on your Summer School application.  MIT Portugal will recommend some accommodations in proximity to the Faculty of Engineering of the University of Porto (FEUP). 
Student Sponsorship Rules
Students supported by this sponsorship will have a travel and lodging subsidy of (750€).
Travel subsidies are reimbursements provided AFTER you have completed the Summer School and submitted a summary report of your experience .
They are intended to subsidize your travel expenses and not to cover them completely.
In order to ensure that you will receive your student subsidy you should email MIT Portugal (mitportugal@mit.edu) with the proof of purchase of a round trip to Porto showing your name as the passenger and dates close to the time of the Summer School (19-30 july).
MIT cannot reimburse travel insurance.
In addition to the travel ticket, you may submit your hotel/lodging receipt as long as it reflects the same name and is for the date of the summer school.
The name on the tickets will match the payee on the reimbursement check, which will be written in US dollars and mailed out. We will only be able to reimburse for the exact amount of money on the receipt. We will need ALL receipts. If there's no receipt, we cannot reimburse anything.
Please also provide us with your postal address, since we are going to mail you the check.
IMPORTANT: We cannot process wire transfers or direct deposits – no special circumstances. Please ensure that you can receive and deposit a printed check from MIT before you apply for the scholarship.

For further information please contact info@mitportugal.org 
Application Process
The application platform is hosted by the SlideRoom platform and can be directly accessed here: https://mitportugal.slideroom.com/#/permalink/program/60818

To prepare and submit your application, you need to register for a SlideRoom account. When registering, please pay attention to the contact details you list, as they will be used to send you reminders, notifications, results and other communications about the Summer School. To access the application form, please visit the above link and click on the button "Apply Now." Login to your SlideRoom account or register to begin the application.
The form is entered on the platform and it is always available to view and edit until the due date, OR before you submit the application. As soon as you submit your application, you will not be able to un-submit or make any changes.
Please note that you will need the below items for your application; it may help to gather them before you begin applying:

1. Your curriculum vitae (CV/resume), created in CiênciaVitae, saved as a PDF
2. A motivation letter
3. A recommendation letter
4. Document proving your enrollment in the university or degree completion proof 
5. An identification document (ID card, passport)
IMPORTANT DATES: 
Application Period
june 4th – june 18th > CALL CLOSED 
Decision > Notification of acceptance
July 6th
Summer School
July 19th-30th