MPP Former Director, Prof. Dava Newman awarded the title of Doctor Honoris Causa in Engineering from the Universidade do Minho
Last week, May 19, our MPP Governing Committee member and former MPP Director at Massachusetts Institute of Technology (MIT) Prof. Dava Newman awarded the title of Doctor Honoris Causa in Engineering from the Universidade do Minho.
In her speech, Prof. Dava Newman thanked this honorable distinction and highlighted the accomplishments of the MIT Portugal Program (MPP) which has contributed to this occasion.
 "It has been one of the most rewarding academic experiences of my career to create and collaborate with you, my dear colleagues, and friends from Minho, over the past two decades. I am here today to give my heartfelt thanks and gratitude, and to emphasize the importance of the partnership in promoting research and innovation in Portugal, and the potential for the partnership to continue to drive economic growth and workforce development in Portugal."
"Through this collaboration, we can continue to push the boundaries of what is possible. Back in 2006, I could not have imagined all that we have achieved. It is truly amazing. The MIT Portugal Program is a shining example of what can be achieved when we work together, across borders and disciplines, to tackle the most pressing challenges of our time", she added.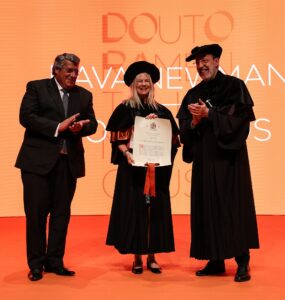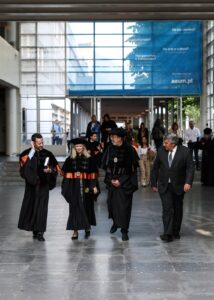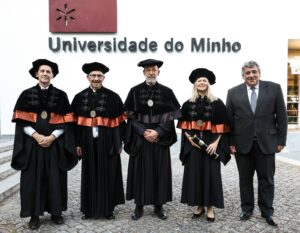 José Ramos CEO of the Salvador Caetano group was also distinguished at this ceremony. The "godparents" of the honorees were the president of the Norte Portugal Regional Coordination and Development Commission (CCDR-N) António Cunha, and the executive director of the Casais Foundation and also a professor at UMinho, José Mendes.
The opening remarks were made by the Dean of the School of Engineering, Pedro Arezes, and the presentation of distinctions by the Dean of the University of Minho, Rui Vieira de Castro. The ceremony took place at the University of Minho, Campus de Azurém, Guimarães, and was also broadcast on UMinho's Youtube channel.
Photo credits: University of Minho
————————————————————————–
Dava Newman 
Dr. Dava Newman is the Director of the MIT Media Lab, Apollo Program Professor of Astronautics at the Massachusetts Institute of Technology (MIT) and a Harvard–MIT Health, Sciences, and Technology faculty member. She served as director of the MIT Portugal Program from 2011 to 2015, and from 2017 until June 2021. In 2022 she was appointed as representative of MIT's senior administration of the MIT Portugal Governing Committee (PGC).
Her work has integrated engineering, design, and biomedical research to better understand and facilitate human adaptation to low-gravity environments. Her career interests also encompass educational innovation and access, climate change, the performing arts, and science and technology policy.
Among her innovations, Dava Newman is well-known for developing the BioSuit, a 2007 TIME Best Invention. Nominated by President Obama, she served as deputy administrator of NASA from 2015 to 2017, the first female engineer in this high-ranking role, and helped to develop the Human Journey to Mars plan.