Three portuguese students participate in MIT's Space Week Events
From 15-17th March MIT held on its campus the 5th Annual Space Week. The MIT Space Week featured a variety of activities, including lectures, workshops, and panel discussions, focusing on space exploration, space policy, and space technologies..
The MIT Portugal Program (MPP) awarded 3 students from Portuguese universities to attend the event. João Ribeiro e Rania Rebbah, from the Faculty of Engineering of the University of Porto, and Nuno Gonçalves, from the Faculty of Sciences of the University of Lisbon, were the selected students to celebrate space exploration across the MIT Campus.
During the Space Week the students had the opportunity to attend Beyond the Cradle: Earth + space in the Age of Anthropocosmos organized by the MIT Space Exploration Initiative (SEI), Aurelie Institute, and MIT Media Lab; the Space Tech 2023 by the MIT Aeronautics and Astronautics Departments, and the New Space Age Conference by MIT Sloan School of Management and Space Industry Club.
They shared their experiences during their stay at MIT. Find out more!!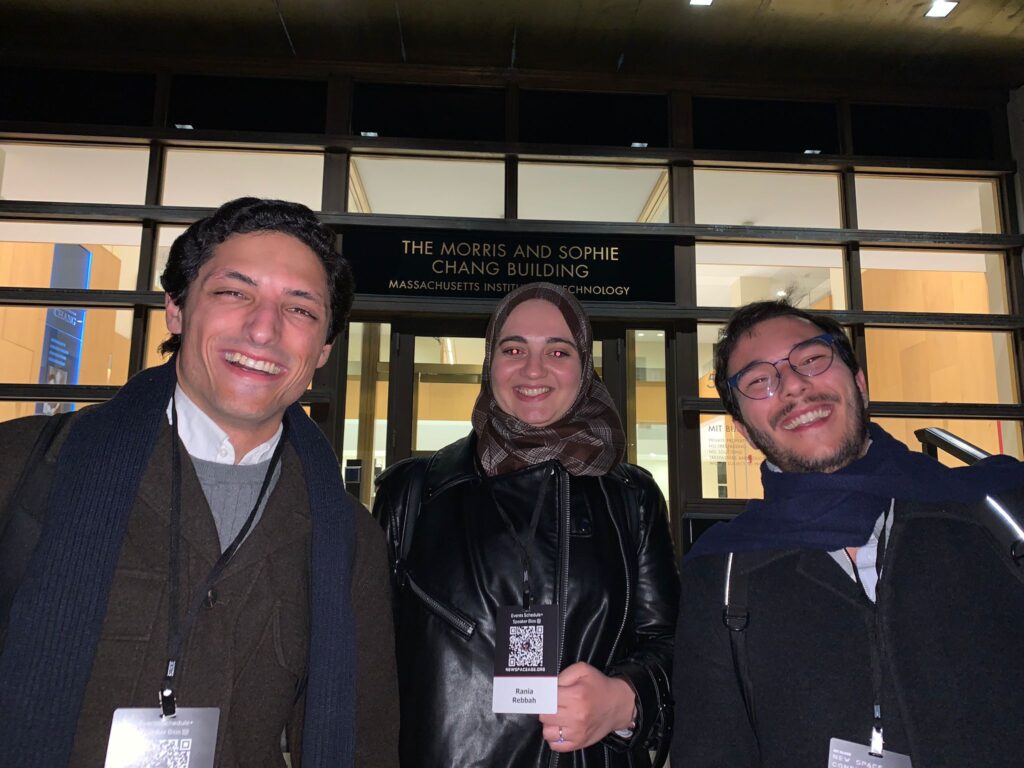 The three students – Left to Right: João Ribeiro; Rania Rebah; Nuno Gonçalves 
>> João Ribeiro is an MPP PhD Candidate carrying out his Ph.D. in the field of Machine Learning and Computational Design, at FEUP

Beyond the Cradle – March 15
The conference kicked off with a captivating keynote address delivered by Dr. John C. Mather, a Senior Project Scientist for NASA's James Webb Space Telescope and a Nobel Prize laureate. His speech was inspirational and motivational, as he shared his past failures and his unwavering determination to pursue his dreams, which ultimately led to his Nobel Prize win.
SpaceTech – March 16
The highlight of the day for me was the In-Space Manufacturing Panel, moderated by Prof. Zachary Cordero, and featuring a lineup of distinguished panelists including Prof. Sergio Pellegrino from Caltech, Al Tadros from Redwire Space, and Prof. Yupeng Chen from UConn. The panel discussion was nothing short of fascinating, as they shared their latest ground-breaking projects and shed light on the numerous challenges they had to overcome when designing for the harsh conditions of space.
New Space Age Conference – March 17
On the last day of the conference, I was thrilled to attend a panel discussion that centered on space startups and companies, both in the private and public markets. The discussion offered invaluable insights into the latest developments and innovations in the industry, and I was able to gain a deeper understanding of the challenges and opportunities that lay ahead. As an avid AI enthusiast, I was particularly drawn to the panel discussion on human and machine collaborations based on trust, organized by Lockheed Martin. It was truly captivating to hear about the latest advancements in this field, and the panelists shared some insightful thoughts on how humans and machines can work together to achieve remarkable results.
Another highlight of the day was learning about Astroaccess and its mission to make space accessible to everyone, with the theme "If we can make space accessible, we can make any space accessible." This was an incredibly inspiring presentation, and it was great to see how Astroaccess is working to make space exploration more inclusive and accessible to people from all walks of life.
During the event, I was fortunate enough to revisit the city and meet two Portuguese students, Nuno and Rania, which made the experience even more delightful and memorable. The event brought together a diverse group of individuals, including entrepreneurs, researchers, and students, each with their own intriguing stories to share. Rodrigo Carvalho Santiago's story was particularly inspiring and left a lasting impression on me. Moreover, I had the opportunity to connect with Aaron Persad, a researcher at MIT, who shared his journey of creating a startup that aims to redefine the multi-sensory experience of food in space while emphasizing healthy eating habits for life. Furthermore, I was able to revisit my lab, DeCoDE Lab, at MIT, and engage in their stimulating lab meetings and activities. I would like to express my gratitude for the opportunity to attend MIT Space Week. It was an amazing experience.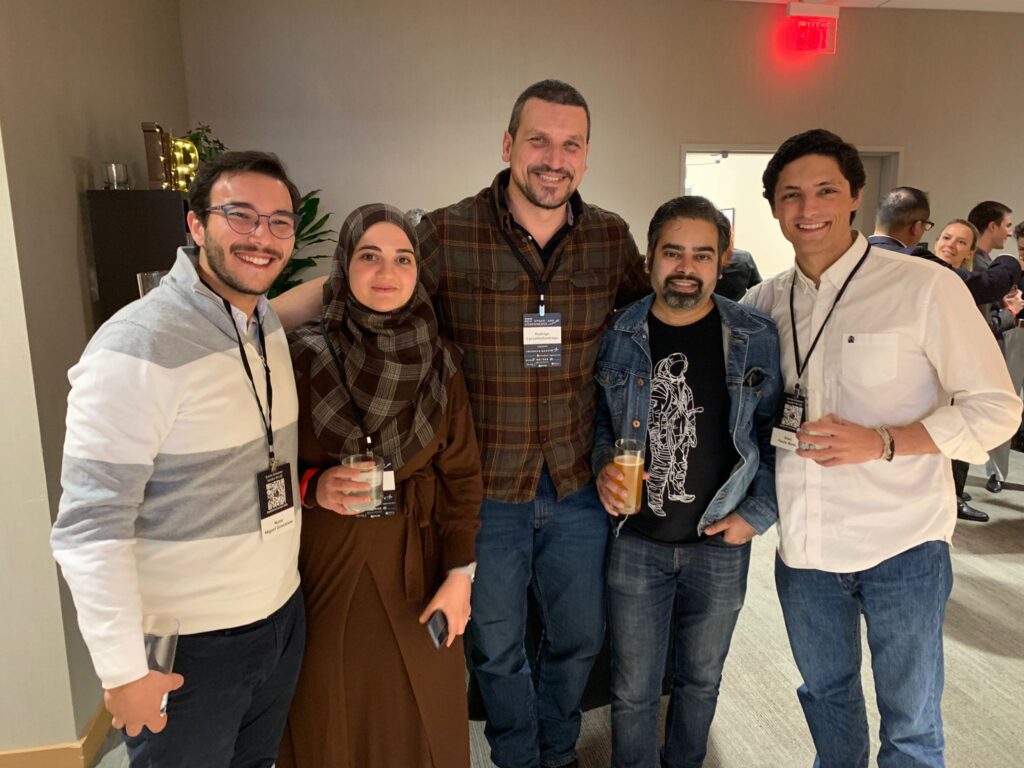 Left to Right: Nuno, Rania, Rodrigo, Aaron, and João
>> Nuno Gonçalves is a second-year PhD student in Physics Engineering at FCUL, University of Lisbon
I went to this event with the goal to deepen my knowledge of space technologies and to network with people with a background in instrumentation for space.  
On the first day, I attended "Beyond the Cradle" at the MIT Media Lab. Beyond the Cradle was an event focused on the advancements made in space exploration and with an open discussion of our responsibilities in this type of endeavor. The first talk was with Prof. John Mather the senior project scientist of the James Webb Space Telescope and 2006 Nobel prize recipient. He gave us a lot of ideas on how to do discoveries in astronomy and how to get funded to do so. He also showed us the path and the decision he had taken in his career to get where he currently is. He was a very good example of how hard work and perseverance paid off in the science world. He showed that even despite having several experimental failures throughout his career, by having perseverance and hard work he eventually achieved success. This path leads him to launch the COBE satellite and as a consequence the detection of the cosmic microwave background radiation that would later award him a Nobel prize. Additionally, he also showed the most recent results of the James Webb telescope and other projects that he is involved. I enjoyed very much his talk and I was lucky enough to discuss with him one of his projects.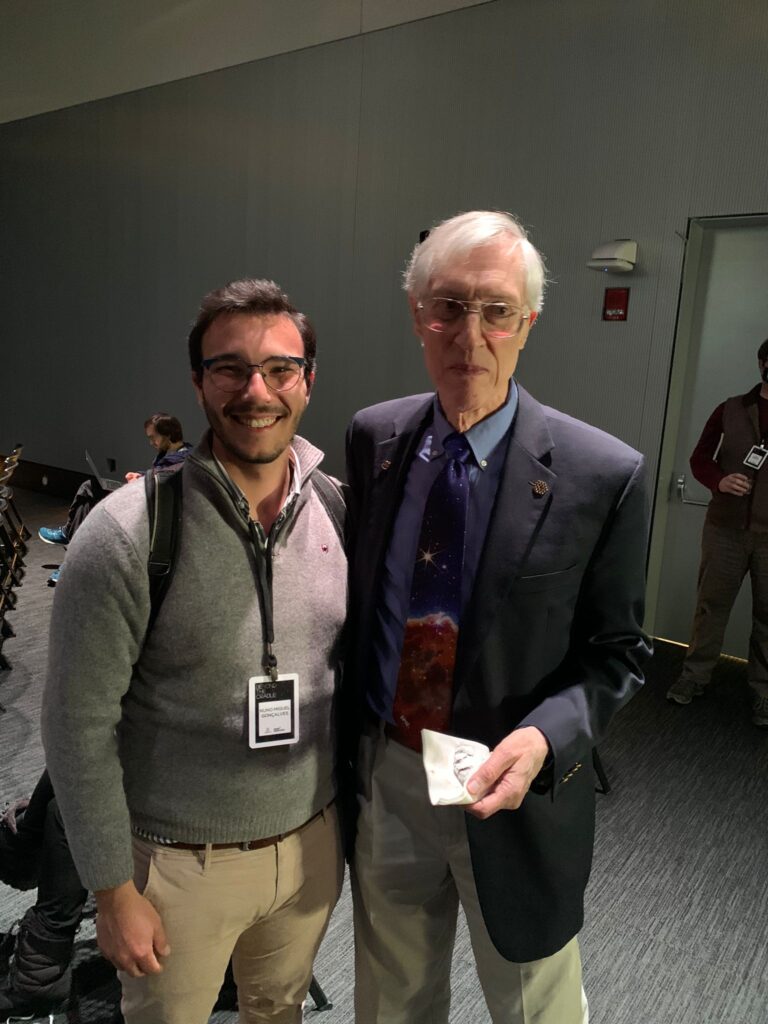 Nuno with Prof. John Mather
On the 16th of March, I attended "SpaceTech 2023" at the MIT Media Lab and saw the lightning talks from MIT students. This was very fascinating for me as a student, to be able to understand the type of work that my peers do at MIT. There is a lot of interesting and ambitious work being done. Despite existing a big difference in how science is done at MIT versus here in Portugal, I saw some ideas that gave me a new perspective on some technologies, maybe something that could potentially be developed here in Portugal.
Finally, for the last day, the New Space Conference provided a very interesting perspective of the industry demands towards space and some of the trend applications. Two of the discussion panels that I found more interesting were involving the space start-ups and the earth observation panel.
I think the true gain of this event was the networking opportunities. All of the participants and speakers were key members of their companies or agencies and we were able to interact with important players. We meet Dr. Zolana João the president and founder of the Angolan space agency. We also meet with Rodrigo Santiago and Aaron Persad two entrepreneurs and researchers based at MIT with a lot of experience in the space sector. We talked and learn about their experiences throughout the event and we even got to take a photo together.
Overall, Space Week at MIT was a very fulfilling conference with lots of learning and networking moments. I would like to thank the financial support of MIT Portugal that enable this whole trip.
>> Rania Rebah is a first-year PhD student in Mining Engineering and Geo-resources, at FEUP
As an enthusiast by the earth and the space, it was an exciting experience for me to hear from experts, space scientists, PhD students, entrepreneurs, and innovators to deepen my knowledge about space exploration, space technologies, space economy and space mining. It was also a great opportunity to connect with people from different backgrounds and forge new collaborations. The MIT Space Week showed me other perspectives of space technology and how we can use it in other industries, like mining industry, and gave me the opportunity to meet brightest minds such as Julie Van Campen, Deputy Commissioning Manager for JWST from NASA Goddard Space Flight Center.
At the New Space Age Conference led by MIT Sloan School of Management, I had the opportunity to connect with Jeff Plate, the vice president of the biggest consulting company in mining and Geology in Canada "WGM" and the CEO of WGM's space Mining "Interstellar Mining" which was one of the sponsors of this conference. Interstellar Mining is predominantly focused on developing and deploying the first robotic water mining operation on the Moon before 2024 in a sustainable manner by employing best practices from terrestrial mining regulations. I also had the pleasure of exchanging and discussing with Jyotsna Budideti, the co-founder, and CEO of Space Sense.ai, a startup based in Paris, France, which combines the power of satellite imagery and AI to help geospatial data scientists and industries as the mining companies to use satellite data to mitigate their impact on climate change. I met Mr. Rodrigo Carvalho Santiago, Researcher and Astronaut Candidate who was classified as one of the Top 100 Men in Aerospace & Aviation on LinkedIn for 2022.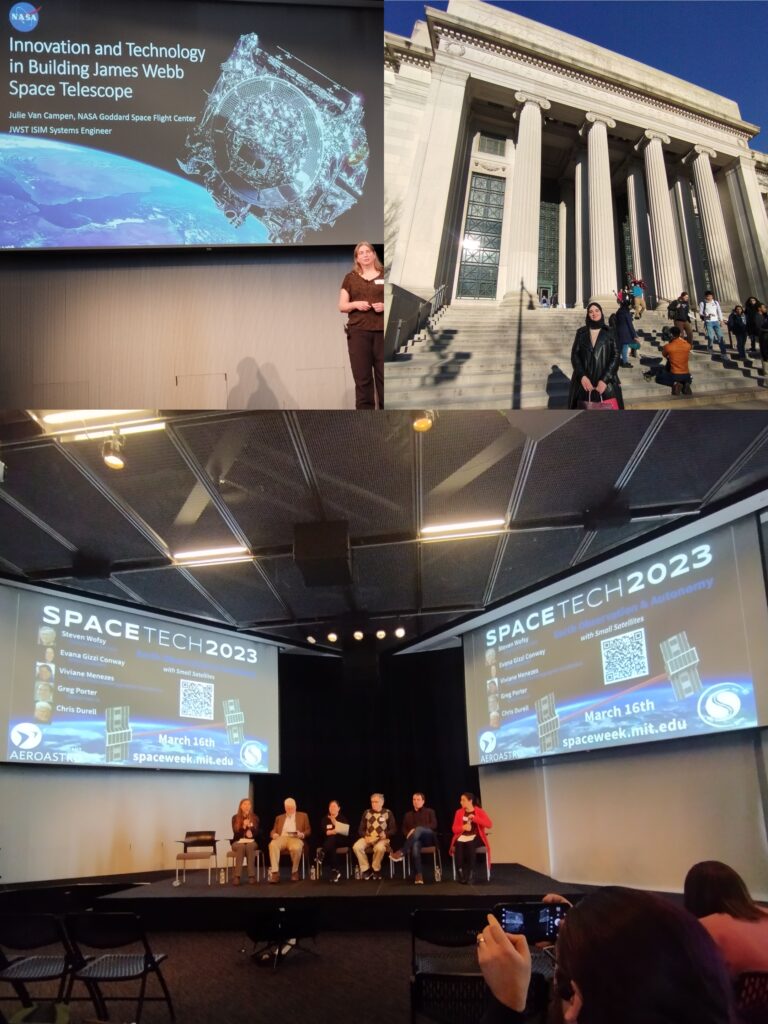 All these people I met inspired me as a woman in STEM to always think big and bold. I would like to thank the MIT Portugal Program for being selected as one of the three students in Portuguese Universities to get a sponsorship to attend the MIT Space Week 2023.
During my stay in Boston, I visited MIT Campus including Media Lab, MIT Sloan School of Management, the alchemist status of Jaume Plensa in the Stratton student centre, The MIT chapel, and the MIT lobby 7, where I visited the Thermodynamics and Kinetics Laboratory guided by Dr Aaron Persad, a research scientist leading various space science projects.