C-Tech : Climate Driven Technologies for Low Carbon Cities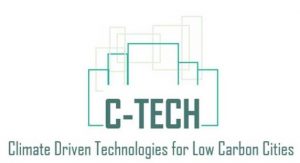 ABSTRACT
C-Tech aims at researching, developing and pilot-scale a digital smart city platform for urban modelling and planning which, based on a three-dimensional representation of the city and its combination with multiple data from different data sources (from domains such as weather, energy and water consumption, mobility and, most of all, user's behavior as determined by their mobile phone use), will allow to simulate scenarios regarding energy-efficiency of buildings, green structures, creation and urban mobility, empowering local authorities to identify and tackle specific environmental issues, overcome the global challenge of decreasing urban carbon footprint and fostering the transition to a net-zero ecosystem.
The project arises from the previous research work co-developed between IST, MIT and the city of Lisbon, from which the technological framework for the city representation has resulted, aiming at enriching and expanding it in order to deliver to the market a set of reliable simulators which will empower local authorities in the definition of new policies and measures to tackle climate change and foster environmental sustainability.
The pursuit of these objectives involves the execution of an action plan, structured in 9 complementary activities, covering all stages of the product development cycle. The adopted research methodology combines industrial research with experimental development, ensuring continuous validation and feedback integration.
In compliance with its complexity and disruption, the project will be executed by a consortium composed by 5 complementary partners which ensure the representation of both business and scientific systems and cover all the critical phases of the value chain. MIT will directly cooperate in the project's execution, providing the consortium with the knowledge and expertise of two Principal Researchers from 2 research centers (MIT SDL and MIT TL).
Scientific Area
Sustainable Cities
Leading Institution

Marco Granja
Senior Manager, NOS

Participating Institutions
IST; CEiiA; UNL-IMS; LISBOA E-NOVA
PT Research Team
From IST :

Prof. Paulo Ferrão
Prof. Carlos Silva
From CEiiA :
Sandra Melo;
Frederico Custódio
Catarina Selada
Gonçalo Salazar
Rui Peixe



From UNL-IMS :

Miguel de Castro Neto
Pedro Cabral
Flávio L. Pinheiro
Pedro Sarmento
Manuel Dias



From Lisboa E-Nova :
Maria Rodrigues
Sara Freitas



MIT PIs

Prof. Christoph Reinhart
MIT Department of Architecture
Director, Building Technology Program

Prof. Jessika Trancik


Institute for Data, Systems and Society

Duration
3 years
Begin date
01/04/2020