2022 Marine Robotics Summer School
2022 Marine Robotics Summer School - Venue
About Faial
Faial Island (the blue island) is part of the Azores central group. The Central Group of Azores islands are famously known as the 'Ilhas Triangulo' – a triangle of islands comprising Pico, São Jorge and Faial.
It was given the name Faial because there are many beech trees here (faias), but no other island can boast such a huge mass of hydrangeas in different shades of blue, which frame the houses, separate the fields and border the roads, justifying the nickname Blue Island.
Faial underwent considerable development from the 17th century on, making it an important trading post due to its geographical position as a safe haven between Europe and the Americas. More recently it was the communications hub between the continents and today is a mandatory point of reference for international yachting and is one of Europe's best whale and dolphin watching locations
Faial is an iconic island on what comes to volcanoes and landscapes. This Azores' island offers amazing sites and pretty views to Mount Pico in the horizon. The highest point is Cabeço Gordo, in the centre of the island, at 1,043m above sea level. It is a magnificent natural viewpoint which in fine weather enables you to see all the islands of the triangle and as far as Graciosa.
| source: Visit Portugal |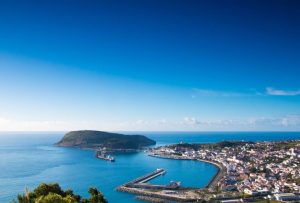 | image credits Visit Azores| 


…and Azores 
The Azores is a Portuguese Archipelago located in the middle of the Atlantic Ocean. Composed of 9 volcanic islands (Santa Maria, S. Miguel, Terceira, Pico, Graciosa, S. Jorge, Faial, Flores, and Corvo), it has around 250 000 inhabitants. Green pastures and high mountains, breathtaking lakes and craters, beautiful coastlines and fajãs make each island a unique place to visit and live. Azores won the Europe's Leading Adventure Tourism Destination 2021 by World Travel Awards. 
You can find relevant information about the Azores on the following websites:
| source Visit Azores |